Announcing the LA Arts Recovery Fund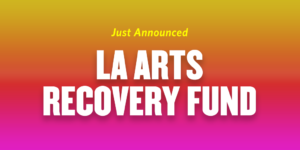 Dear Grantee Partners and Colleagues:
We are delighted to announce that The Ralph M. Parsons Foundation and more than a dozen local and national funders have launched the LA Arts Recovery Fund, a $38.5M private pooled investment for the arts sector in LA.
The Fund will offer competitive grants providing significant flexible operating support to small and medium-sized arts organizations across LA County, and we wanted to make sure you were aware of this opportunity. 
The California Community Foundation (CCF) is hosting an informational webinar with time for Q&A from 9:30 a.m. – 11:00 a.m. Wednesday, February 17th. The application portal will also open at that time. Please register for the webinar here. Kindly note that due to limited registration capacity, CCF requests that one person per organization sign up for the webinar. A recording of the webinar will also be posted on CCF's website.
Applications are due March 2, 2021. Information on how to apply is available on the CCF website at: https://www.calfund.org/nonprofits/open-grants/laartsfund-rfp.
Feel free to email laartsfund@calfund.org with any questions.
With best wishes,
Wendy Garen, President and CEO