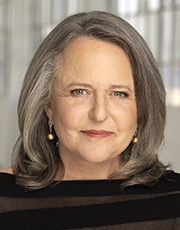 President & Chief Executive Officer
Wendy has played an integral role in the life of the Parsons Foundation, becoming President and CEO in 2008 after working for the Foundation for more than twenty years.
Wendy is currently Chair of the Los Angeles County Commission for Children and Families, serves on the advisory board of the Center for Philanthropy and Public Policy at USC, is Vice Chair of LA Partnership for Early Childhood Investment, and serves on the LA Coalition for the Economy & Jobs. She is a founding member of the Non-Profit Sustainability Initiative, the Los Angeles County Center for Strategic Partnerships, and the Los Angeles County Arts Recovery Fund.
Wendy formerly served as Chair of Southern California Grantmakers, helping transform the organization into an engine of collaboration and transformation increasing membership from 100 to more than 300. She was also on the board of the Broad Stage, First 5 Los Angeles, and The Trusteeship, the local affiliate of the International Women's Forum. As a member of the Women's Leadership Board at the Harvard Kennedy School, she traveled with delegations to Egypt and South Africa.
Prior to joining the Parsons Foundation, Wendy was Executive Director of the Los Angeles Child Care and Development Council, Program Manager at Children's Home Society of Orange County, and founding staff member of the children's nonprofit Crystal Stairs.
Wendy is a sought-after speaker and panelist at local, national and international meetings. She is a graduate of the University of Illinois and has a master's in urban planning from UCLA.